What better way to celebrate the beginning of Summer than spending 4 days and nights on the almost legendary Zrce beach in Croatia, including international DJs, warm-up parties, boat parties and lots more.
Lineup teaser #1 Zrce Spring Break Europe 2017
Lineup Teaser#1 Zrce Spring Break Europe 2017

LineUp Video Teaser#1 featuring two Dutch heavyweights, R3hab and Brennan Heart. Grab your package/tickets before is 2 late: www.zrcespringbreak.com #r3hab #BrennanHeart #hardstyle #zrcespringbreak #springbreakeurope #zrce #novalja #pag #croatia #springbreak

Posted by Zrce Spring Break Croatia on Monday, February 27, 2017
Six years in a row, this festival is being visited by people from all over the World. Already celebrating its 7th edition, Zrce Spring Break is showing no sign of letting up. Carried forward by deadly combination of soundscape and scenary.
Zrce Spring Break festival is hosted at two of Croatia's hottest clubs, both on stunning Zrce Beach (Exclusive only for people with Zrce Spring Break wristbands). The world famous Aquarius club is joined by idyllic open-air Kalypso club for exotic after beach parties and crazy night parties.
Don't forget unique party boat where party really heats up...
International party people from all over the world combined with one of the best party destinations in the world, making this Zrce Spring Break festival absolutely unique. Make sure to like official Facebook page of this festival.
The aim is to provide the best experience of the year at low, student friendly prices. So spread the word and book your Zrce Spring Break package. Celebrating its 7th anniversary from 02nd till 05th of June 2017, expect even bigger and better lineup and make sure you'll be heading to Zrce Spring Break Croatia beginning of June 2017.

Final Lineup for Zrce Spring Break Europe 2017:
R3hab, Brennan Heart, Dominique Jardin, KINKY #abartig, Rudy Mc, Colin May, Sandro Bani, DEKOVA, XO, Flinta, MC BLACK ELVIS,...
&nbsp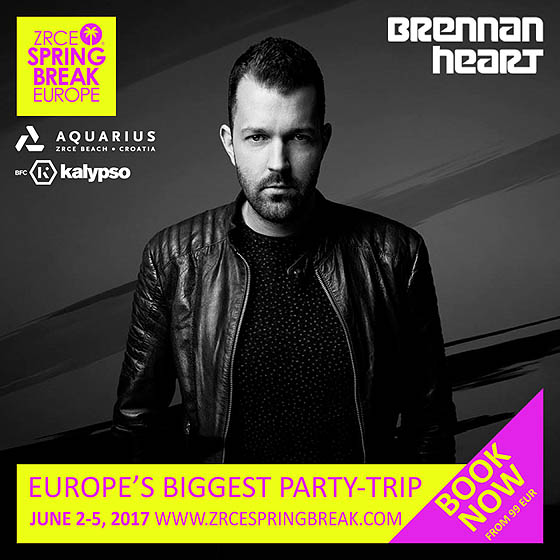 Zrce Spring Break Europe 2017 official VENUES:
AQUARIUS CLUB & KALYPSO CLUB ON ZRCE BEACH
AFTERMOVIE 2016

[AFTERMOVIE 2016] Remember all those sleepless nights from last summer? 🎉☀️🌴 Well, there's no better reminder than this one. THANK YOU ALL for being part of this!🙌 🙌 WATCH & ENJOY THE AFTERMOVIE!

Posted by Aquarius Club @ Zrce beach on Monday, March 13, 2017
Kalypso 30th anniversary video

Celebrate 30 years of Kalypso with us! ☀️ Get together for the most electrifying summer season since 1987! 🔥 Show love & support! Vote for Kalypso in DJ Mag 'Top 100' poll https://top100clubsvote.djmag.com Music by Divolly & Markward, Pessto & Flamingo Recordings

Posted by Kalypso club @ Zrce beach on Tuesday, February 14, 2017